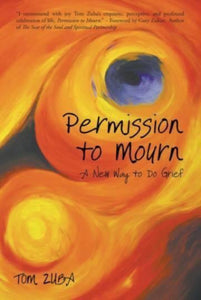 A heartfelt gift to a loved one, a friend or to yourself - an autographed copy of Tom Zuba's first life changing and transformational book. This specialty item may be ship separately from other items purchased. Shipment may take up to 14 days.
From Tom:
This is the book I wish I had read after my daughter Erin died.  And after my wife Trici died. It's the book I wish someone had given me after my son Rory died.  But I had to live it first. Before I could write it. For you.
Order your personally signed copies.  Order one for you.  Give them as gifts to members of your family and special friends who are learning to live with the death of someone they love.
Give them, in memory of your beloved, to:
     * your local hospice
     * the medical team that cared for your beloved
     * the funeral home you worked with
     * your library
     * the school your beloved attended
     * your church or temple
Folks who have already read the book said:
"I love the simplicity of this book.. The words on each page are very powerful... Helps you to think and they just soak right to my soul." ~ Jodi
"This is one of the best books I have read on grieving and I have read many. I cried through a lot of the book BECAUSE Tom was speaking directly to me. So much of my short journey is just like Tom talked about in his book. I will re read this and hopefully I can practice some of his suggestions." ~ Mary Lee
"Incredible wisdom is imparted in this short book. You will not only walk away with new insights into life, death, healing, and grieving, but you will understand that doing the work will allow you the ability to honor the person you grieve for by actually having a richer life. Tom's own story gives hope. You will want to read it over and over knowing that you'll have the tools to come out richer on the other side of grief." ~ Marilyn
If you order multiple books the first book will be personally signed for you.  If you'd like a book personally signed for someone other than you, please let us know and include their name(s) under "Add a note to your order." Otherwise, additional books ordered will be signed with no name.